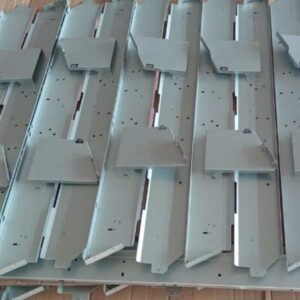 Powder coating has the same function as paint coating. It makes the surface of sheet metal fabrication parts smoother and more polished, adding aesthetic appeal while protecting the bare surface from dust, dirt and corrosion. This type of coating can be used for metal brackets, sheet metal boxes, large panels, etc. Now let's discuss some of the benefits of powder coating.
1. Durability: Compared to metal parts, powdered metal parts have a higher durability of the final product. This is because powder coating allows the product to get a fairly thick coating, thus providing more protection to the metal and most importantly, powder coating is able to perform a thicker surface finish.
2、Lasting: Powder coating is much more than just external factors such as weather, chemical damage and human interaction, whether your powder coated surface is outdoors all day or fixed in a climate-controlled glass case, you can rest assured that the powder coating will maintain its beautiful appearance.
3、Fast and easy: When you choose the powder coating process, it will run faster. The process only requires one coat, and while it does take some time to cure, it is still faster than applying multiple coats.
4、Customizable: Powder coating provides you with a choice of direction in terms of surface finish and color selection. You can choose from hundreds of different color options, all of which are long-lasting and resistant to chipping or fading that can occur in regular paint, and also offer finishes with different textures, so you can choose from smooth, wrinkled, matte, glossy or rough looks to get the desired look or function.
5. Good for the environment :Powder coatings benefit the environment in many ways. Contrary to some types of coatings that may give off harmful odors and chemicals, powder coatings do not release harmful toxins or organic compounds that may pollute the air. These coatings are recyclable in nature, which means you can use nearly 100% of them without adding toxic waste to the earth.
6. Uniformity: Because the powder coatings are applied in one large coat and then dried together, they dry very uniformly, which produces a final polished surface that has a uniform color and texture and no visible stains that are traces of the manufacturing process.
If you need custom sheet metal products, Dongguan Jiatong Precision Hardware Products Co., Ltd. can be customized according to your requirements to produce, welcome to consult.
Custom Metal Box Manufacturers | Custom Sheet Metal Enclosures | Custom Aluminum Box | Custom Sheet Metal Boxes | Custom Metal Boxes | Sheet Metal Supplier | Steel Box Manufacturers | Sheet Metal Box Manufacturers | Custom Made Metal Boxes | China Sheet Metal Manufacturer | Outdoor Vending Machine Enclosures | Industrial Machine Enclosures | Metal Enclosures for Electronics | EV Charger Outdoor Enclosure | Outdoor EV Charger Enclosure | EV Charger Enclosure | Custom Aluminium Box | Custom Steel Box | Metal Box Supplier | Metal Enclosure Manufacturer | Sheet Metal Enclosure Manufacturers | Metal Enclosure Box Manufacturer | Metal Enclosure Manufacturer | Aluminium Box Manufacturer | Outdoor Equipment Enclosures | Aluminium Box Manufacturers | Equipment Enclosures Metal | Metal Enclosure Box | Metal Enclosure | Enclosure Box Price | Sheet Metal Manufacturers | Sheet Metal Manufacturing companies | Custom Made Aluminium Boxes | Custom Made Metal Box | Aluminum Sheet Metal Fabrication | Aluminium Sheet Metal Fabrication | Auminium Tool Boxes Made to Order | Custom Metal Enclosures | Custom Stainless Steel Box | Custom Made Aluminum Boxes | Metal Box Manufacturers | Custom Steel Enclosures | Custom Stainless Steel Enclosures | Custom Metal Box | Custom Aluminium Box | Sheet Metal Fabrication Supplier | China Sheet Metal Fabrication | Custom Sheet Metal Fabrication | Sheet Metal Fabrication Services | Metal Manufacturing in China | Aluminum Box Fabrication | Sheet Metal Box Fabrication | Sheet Metal China | Precision Sheet Metal Fabrication