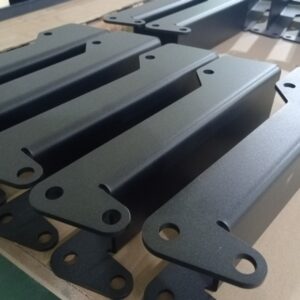 Sheet metal electrophoresis is an electrophoretic process and a widely used coating method used to protect the surface of sheet metal and give it a decorative appearance. Sheet metal electrophoresis is often used to provide superior corrosion resistance, scratch resistance and improved resistance to environmental conditions. It also allows metal surfaces to be coated with decorative finishes. The sheet metal electrophoresis process is commonly used in industries such as automotive, household appliances, furniture, metal finishing and construction.
The cathodic electrodeposition coating method uses a DC power supply to realize the electrodeposition effect by moving the positively charged water molecules in the aqueous solution from the negative electrode to the positive electrode to form a current circuit. When the negatively charged particles reach the positive electrolyte interface, a uniform iron oxide film is generated by the reaction. Anodic electrodeposition coating is a special method of electrophoresis using the principle of potential difference between the positive and negative electrodes of cations dissolved in aqueous medium by the action of applied voltage. The advantages of this method are high efficiency, fast speed and other advantages, which are suitable for batch production in the production line of the tooling manufacturer. The disadvantage is that the production cost is higher. Another thing to note is that both types of coating process use chemical reagents as auxiliary agents.
Dongguan Jiatong Precision Hardware Products Co., Ltd. is a sheet metal manufacturer with 12 years of experience in sheet metal. We have introduced several advanced sheet metal machines and can choose the most suitable tools for sheet metal processing according to customers' requirements to ensure the production of sheet metal products to customers' satisfaction, and we are also able to provide customized services to customers, welcome to consult us by clicking the link below.
Custom Metal Box Manufacturers | Custom Sheet Metal Enclosures | Custom Aluminum Box | Custom Sheet Metal Boxes | Custom Metal Boxes | Sheet Metal Supplier | Steel Box Manufacturers | Sheet Metal Box Manufacturers | Custom Made Metal Boxes | China Sheet Metal Manufacturer | Outdoor Vending Machine Enclosures | Industrial Machine Enclosures | Metal Enclosures for Electronics | EV Charger Outdoor Enclosure | Outdoor EV Charger Enclosure | EV Charger Enclosure | Custom Aluminium Box | Custom Steel Box | Metal Box Supplier | Metal Enclosure Manufacturer | Sheet Metal Enclosure Manufacturers | Metal Enclosure Box Manufacturer | Metal Enclosure Manufacturer | Aluminium Box Manufacturer | Outdoor Equipment Enclosures | Aluminium Box Manufacturers | Equipment Enclosures Metal | Metal Enclosure Box | Metal Enclosure | Enclosure Box Price | Sheet Metal Manufacturers | Sheet Metal Manufacturing companies | Custom Made Aluminium Boxes | Custom Made Metal Box | Aluminum Sheet Metal Fabrication | Aluminium Sheet Metal Fabrication | Auminium Tool Boxes Made to Order | Custom Metal Enclosures | Custom Stainless Steel Box | Custom Made Aluminum Boxes | Metal Box Manufacturers | Custom Steel Enclosures | Custom Stainless Steel Enclosures | Custom Metal Box | Custom Aluminium Box | Sheet Metal Fabrication Supplier | China Sheet Metal Fabrication | Custom Sheet Metal Fabrication | Sheet Metal Fabrication Services | Metal Manufacturing in China | Aluminum Box Fabrication | Sheet Metal Box Fabrication | Sheet Metal China | Precision Sheet Metal Fabrication | Custom Aluminum Box Fabrication | Custom Metal Box Fabrication | Sheet Metal Manufacturing | Metal Manufacturing Company | Metal Bending Services