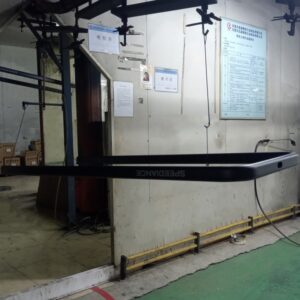 Outdoor vending machine enclosures can protect the internal equipment from harsh weather and environment, as well as improve security, prevent theft and vandalism, and protect the safety of the vending machine and internal equipment. The design and production of the outdoor vending machine shell can affect the aesthetics of the vending machine and the user experience. The material, color and style of the shell can attract the attention of consumers, so the production and manufacturing of the outdoor vending machine shell is important.
The outdoor vending machine shell production process can be divided into the following steps: According to the function and size of the vending machine, determine the size and material requirements of the shell and choose the most suitable material. Use CNC cutting machine, laser cutting machine and other equipment to cut the material into parts of specified size according to customer requirements, then use CNC bending machine, punching machine and other equipment to bend the parts into the required angle and punch holes according to requirements. Using electric arc welding, gas welding and other equipment, the parts will be spliced and welded, and then use spraying, electrophoresis, electroplating and other methods to carry out surface treatment and rust prevention treatment. Finally, the welded parts are assembled according to the drawing documents to form a complete shell, and the made shell is inspected and tested to check whether the size, shape, surface quality, etc. of the shell meet the requirements.
The above is the specific production process of outdoor vending machine shell, each step of which requires attention to material selection, technical operation and other details to ensure that the production of the shell of excellent quality, functional, beautiful and durable. If you are looking for a professional sheet metal manufacturer, Dongguan Jiatong Precision Hardware Products Co., Ltd. is a good choice. The company has 12 years of sheet metal experience, has introduced advanced sheet metal equipment, and has experienced sheet metal staff who can ensure the production of sheet metal products that satisfy customers. Welcome to click the link below for consultation.
Custom Metal Box Manufacturers | Custom Sheet Metal Enclosures | Custom Aluminum Box | Custom Sheet Metal Boxes | Custom Metal Boxes | Sheet Metal Supplier | Steel Box Manufacturers | Sheet Metal Box Manufacturers | Custom Made Metal Boxes | China Sheet Metal Manufacturer | Outdoor Vending Machine Enclosures | Industrial Machine Enclosures | Metal Enclosures for Electronics | EV Charger Outdoor Enclosure | Outdoor EV Charger Enclosure | EV Charger Enclosure | Custom Aluminium Box | Custom Steel Box | Metal Box Supplier | Metal Enclosure Manufacturer | Sheet Metal Enclosure Manufacturers | Metal Enclosure Box Manufacturer | Metal Enclosure Manufacturer | Aluminium Box Manufacturer | Outdoor Equipment Enclosures | Aluminium Box Manufacturers | Equipment Enclosures Metal | Metal Enclosure Box | Metal Enclosure | Enclosure Box Price | Sheet Metal Manufacturers | Sheet Metal Manufacturing companies | Custom Made Aluminium Boxes | Custom Made Metal Box | Aluminum Sheet Metal Fabrication | Aluminium Sheet Metal Fabrication | Auminium Tool Boxes Made to Order | Custom Metal Enclosures | Custom Stainless Steel Box | Custom Made Aluminum Boxes | Metal Box Manufacturers | Custom Steel Enclosures | Custom Stainless Steel Enclosures | Custom Metal Box | Custom Aluminium Box | Sheet Metal Fabrication Supplier | China Sheet Metal Fabrication | Custom Sheet Metal Fabrication | Sheet Metal Fabrication Services | Metal Manufacturing in China | Aluminum Box Fabrication | Sheet Metal Box Fabrication | Sheet Metal China | Precision Sheet Metal Fabrication | Custom Aluminum Box Fabrication | Custom Metal Box Fabrication | Sheet Metal Manufacturing | Metal Manufacturing Company | Metal Bending Services