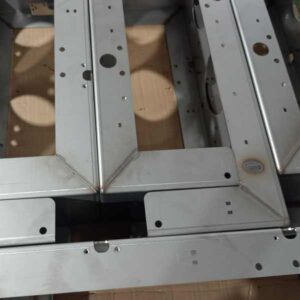 Sheet metal welding is a process commonly used in sheet metal processing to join parts together as required. However, in the actual sheet metal production and processing process, improper operation will lead to deformation of the sheet metal workpiece. So how to prevent the deformation of sheet metal welding process? The following is the plan of Dongguan Jiatong Precision Hardware Products Co:
Before the sheet metal workpiece is welded Dongguan Jiatong sheet metal staff will align the parts correctly and fix them with clamps or clips, then the parts will be fixed using appropriate tack welding techniques before the final welding to ensure that the parts are firmly fixed but not so much that they are deformed.
Maintain the correct temperature and heat input during the welding process, use the proper filler material, and preheat the parts prior to welding can help reduce stress and prevent distortion, especially in thicker materials that are more prone to distortion. Heat treatment after welding, where the part is heated to a specific temperature and then slowly cooled, can relieve stresses and reduce the risk of distortion. Proper welding techniques are the key to preventing distortion. With several people with more than 15 years of sheet metal production experience, 30 people with 10 to 15 years of sheet metal experience, and other key technicians with more than 5 years of experience, Jiatong has the experience in sheet metal operations to ensure the production of high quality parts that meet expected specifications.
If distortion occurs, corrective action may be required, such as reworking or reshaping the part, which may involve the use of specialized tools or processes to correct the distortion and bring the part back to the desired specifications. Dongguan Jiatong Precision Hardware Products Co., Ltd. has been established for 12 years and has introduced a wide variety of sheet metal equipment, which is constantly updated to meet the needs of our customers as the times go by. If you are worried about welding deformation in the process of sheet metal processing, please feel free to leave the problem to Dongguan Jiatong Precision Hardware Products Co. Welcome to click the following link to consult.
Custom Metal Box Manufacturers | Custom Sheet Metal Enclosures | Custom Aluminum Box | Custom Sheet Metal Boxes | Custom Metal Boxes | Sheet Metal Supplier | Steel Box Manufacturers | Sheet Metal Box Manufacturers | Custom Made Metal Boxes | China Sheet Metal Manufacturer | Outdoor Vending Machine Enclosures | Industrial Machine Enclosures | Metal Enclosures for Electronics | EV Charger Outdoor Enclosure | Outdoor EV Charger Enclosure | EV Charger Enclosure | Custom Aluminium Box | Custom Steel Box | Metal Box Supplier | Metal Enclosure Manufacturer | Sheet Metal Enclosure Manufacturers | Metal Enclosure Box Manufacturer | Metal Enclosure Manufacturer | Aluminium Box Manufacturer | Outdoor Equipment Enclosures | Aluminium Box Manufacturers | Equipment Enclosures Metal | Metal Enclosure Box | Metal Enclosure | Enclosure Box Price | Sheet Metal Manufacturers | Sheet Metal Manufacturing companies | Custom Made Aluminium Boxes | Custom Made Metal Box | Aluminum Sheet Metal Fabrication | Aluminium Sheet Metal Fabrication | Auminium Tool Boxes Made to Order | Custom Metal Enclosures | Custom Stainless Steel Box | Custom Made Aluminum Boxes | Metal Box Manufacturers | Custom Steel Enclosures | Custom Stainless Steel Enclosures | Custom Metal Box | Custom Aluminium Box | Sheet Metal Fabrication Supplier | China Sheet Metal Fabrication | Custom Sheet Metal Fabrication | Sheet Metal Fabrication Services | Metal Manufacturing in China | Aluminum Box Fabrication | Sheet Metal Box Fabrication | Sheet Metal China | Precision Sheet Metal Fabrication | Custom Aluminum Box Fabrication | Custom Metal Box Fabrication | Sheet Metal Manufacturing | Metal Manufacturing Company | Metal Bending Services