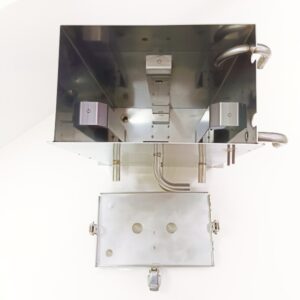 What are the Structural Features of Sheet Metal Cabinets?
The structure of a sheet metal cabinet is mainly composed of base, front and rear doors, side doors, front and rear frames, top cover, corner gauges and crossbeams, and generally adopts an assemblable structure for the purpose of easy assembly, coupling and movement. The sheet metal cabinet is mainly used to store important instruments and equipment, so its structure must be reliable to better maintain the normal and stable operation of the equipment. The following are the structural features of sheet metal cabinets.
1、Higher reliability and safety performance of sheet metal cabinet.
2、Sheet metal cabinets are maintenance-free, saving maintenance costs, and are suitable for various environments.
3、High integration of sheet metal cabinets, occupying less space, short construction cycle, effectively reducing construction costs.
4、Sheet metal cabinets support fast assembly, whole installation, adaptable, suitable for mountaintop, roof top multi-scene installation.
5、Sheet metal cabinet has perfect thermal design, effective energy saving and emission reduction, reduce operating cost.
To sum up, these are the structural features of sheet metal cabinets. It is because of these structural features that sheet metal cabinets can meet the requirements of users well, not only sturdy and durable, low failure rate, but also very stable operation and high security, which is widely used in automation, electric power, transportation, teaching, medical and other industries.
Custom Metal Box Manufacturers | Custom Sheet Metal Enclosures | Custom Aluminum Box | Custom Sheet Metal Boxes | Custom Metal Boxes | Sheet Metal Supplier | Steel Box Manufacturers | Sheet Metal Box Manufacturers | Custom Made Metal Boxes | China Sheet Metal Manufacturer | Outdoor Vending Machine Enclosures | Equipment Enclosures | Machinery Enclosures | Machine Enclosure | Machine Enclosures | Industrial Machine Enclosures | Metal Enclosures for Electronics | EV Charger Outdoor Enclosure | Outdoor EV Charger Enclosure | EV Charger Enclosure | Custom Aluminium Box | Custom Steel Box | Metal Box Supplier | Metal Enclosure Manufacturer | Sheet Metal Enclosure Manufacturers | Metal Enclosure Box Manufacturer | Metal Enclosure Manufacturer | Aluminium Box Manufacturer | Outdoor Equipment Enclosures | Enclosure for EV Charger | EV Charging Enclosure | EV Charger Enclosure | Aluminium Box Manufacturers | Equipment Enclosures Metal | Sheet Metal Enclosure | Metal Enclosure Box | Metal Enclosure | Enclosure Box Price | Sheet Metal Manufacturers | Sheet Metal Manufacturing companies | Custom Made Aluminium Boxes | Custom Made Metal Box | Aluminum Sheet Metal Fabrication | Aluminium Sheet Metal Fabrication | Auminium Tool Boxes Made to Order | Custom Metal Enclosures | Custom Stainless Steel Box | Custom Made Aluminum Boxes | Metal Box Manufacturers | Custom Steel Enclosures | Custom Stainless Steel Enclosures | Custom Metal Box | Custom Aluminium Box