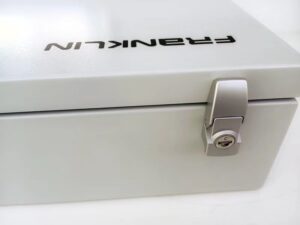 Sheet metal cabinets are generally used to store computers and related control equipment, which can provide protection for the stored equipment and shield electromagnetic interference to achieve orderly arrangement of equipment. As a professional sheet metal fabricator, the design of sheet metal cabinet is very important to improve the work performance and quality of the cabinet:
1. choose high quality flowerless galvanized steel plate, durable, tough and comprehensive protection, no need to worry about the bad weather condition again, apply 2mm thick galvanized plate square hole strip, strong load-bearing capacity, if a galvanized steel plate cabinet is put on the ground, the load-bearing weight is very large and no problem.
2. The surface of the sheet metal cabinet adopts plastic spraying process, which is comfortable and convenient and has strong acid and alkali resistance and corrosion resistance. Also reserved for threading holes, convenient for line management and finishing.
3. The cabinet is equipped with wall-hanging holes, which can be directly hung on the wall for easy operation and increased space utilization.
4. Removable front door, easy to assemble, secure connection, easy to move. This 2U network cabinet is set up with multiple cooling holes on both sides to double the cooling effect. Cabinet installation of anti-theft door lock, enhance the security of built-in equipment, increase the protection effect.
The above is the 2U network wall-mounted cabinet design sharing, you can see that every detail is for our better quality use experience, we also pay more attention to the sheet metal cabinet technology and design when selecting the cabinet, so that the product is more efficient and convenient for their use.
Custom Metal Box Manufacturers | Custom Sheet Metal Enclosures | Custom Aluminum Box | Custom Sheet Metal Boxes | Custom Metal Boxes | Sheet Metal Supplier | Steel Box Manufacturers | Sheet Metal Box Manufacturers | Custom Made Metal Boxes | China Sheet Metal Manufacturer | Outdoor Vending Machine Enclosures | Industrial Machine Enclosures | Metal Enclosures for Electronics | EV Charger Outdoor Enclosure | Outdoor EV Charger Enclosure | EV Charger Enclosure | Custom Aluminium Box | Custom Steel Box | Metal Box Supplier | Metal Enclosure Manufacturer | Sheet Metal Enclosure Manufacturers | Metal Enclosure Box Manufacturer | Metal Enclosure Manufacturer | Aluminium Box Manufacturer | Outdoor Equipment Enclosures | Aluminium Box Manufacturers | Equipment Enclosures Metal | Metal Enclosure Box | Metal Enclosure | Enclosure Box Price | Sheet Metal Manufacturers | Sheet Metal Manufacturing companies | Custom Made Aluminium Boxes | Custom Made Metal Box | Aluminum Sheet Metal Fabrication | Aluminium Sheet Metal Fabrication | Auminium Tool Boxes Made to Order | Custom Metal Enclosures | Custom Stainless Steel Box | Custom Made Aluminum Boxes | Metal Box Manufacturers | Custom Steel Enclosures | Custom Stainless Steel Enclosures | Custom Metal Box | Custom Aluminium Box | Sheet Metal Fabrication Supplier | China Sheet Metal Fabrication | Custom Sheet Metal Fabrication | Sheet Metal Fabrication Services | Metal Manufacturing in China | Aluminum Box Fabrication | Sheet Metal Box Fabrication