Choosing the appropriate thickness for sheet metal is an important consideration, as it affects the strength, weight, and cost of the final product. Here are some key factors to consider when choosing sheet metal thickness: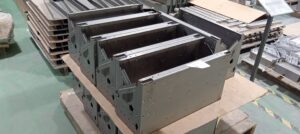 The first consideration when choosing the thickness of sheet metal is the intended application. The required thickness will depend on the amount of stress or weight the material will need to bear, and any other performance requirements.Secondly, Different materials have different strengths and will require different thicknesses. For example, aluminum is generally less dense than steel and can often be used in thinner sheets while maintaining similar strength.Thirdly, Some manufacturing processes, such as welding or stamping, may require specific thicknesses of sheet metal to achieve the desired result. Consider the manufacturing process to ensure that the chosen thickness is suitable.Lastly Thicker sheet metal is generally more expensive than thinner sheet metal, so cost may be a factor in determining the appropriate thickness.
In general, it's a good idea to consult with a sheet metal fabrication expert to determine the appropriate thickness for your specific application.
Custom Metal Box Manufacturers | Custom Sheet Metal Enclosures | Custom Aluminum Box | Custom Sheet Metal Boxes | Custom Metal Boxes | Sheet Metal Supplier | Steel Box Manufacturers | Sheet Metal Box Manufacturers | Custom Made Metal Boxes | China Sheet Metal Manufacturer | Outdoor Vending Machine Enclosures | Equipment Enclosures | Machinery Enclosures | Machine Enclosure | Machine Enclosures | Industrial Machine Enclosures | Metal Enclosures for Electronics | EV Charger Outdoor Enclosure | Outdoor EV Charger Enclosure | EV Charger Enclosure | Custom Aluminium Box | Custom Steel Box | Metal Box Supplier | Metal Enclosure Manufacturer | Sheet Metal Enclosure Manufacturers | Metal Enclosure Box Manufacturer | Metal Enclosure Manufacturer | Aluminium Box Manufacturer | Outdoor Equipment Enclosures