According to the different materials of panel materials, the classification is different, mainly can be divided into aluminum composite panels, single-layer aluminum panels, honeycomb aluminum panels, sandwich core insulation aluminum panels, stainless steel panels, color coated steel panels, enamel steel panels and other curtain walls.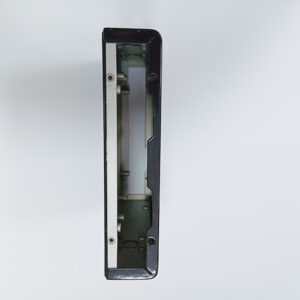 Aluminum composite panel is composed of two layers inside and outside are 0.5mm thick aluminum plate sandwiched between 2 to 5mm thick polyethylene or rigid PVC foam plate, the plate surface is coated with fluorocarbon resin coating, forming a tough, stable film layer, its adhesion and durability is very strong, richer colors, the back of the plate is coated with polyester paint, which can prevent possible corrosion.
Single-layer aluminum plate using 2.5mm or 3.0mm thick aluminum alloy plate, external curtain wall with single-layer aluminum plate surface and aluminum composite plate front coated with the same material, film toughness, stability, adhesion and durability completely consistent. Single-layer aluminum plate is aluminum composite plate, after another metal curtain wall commonly used decorative panel material, and more and more applications.
Honeycomb aluminum panel is a composite material made of two aluminum panels with honeycomb core bonded in the middle, the curtain wall with honeycomb aluminum panel should be aluminum honeycomb, honeycomb shape has positive hexagon, flat hexagon, rectangle, square, cross, flat square, etc.. Honeycomb core material should be treated with special treatment, such as chemical oxidation treatment of aluminum foil, its strength and corrosion resistance will increase. Honeycomb core material in addition to aluminum foil. Sandwich insulation aluminum panel is similar to aluminum honeycomb panel and aluminum composite panel form, only the core layer material in the middle is different, sandwich insulation aluminum panel core layer is used for insulation material.
Stainless steel plate has a mirror stainless steel plate, matte stainless steel plate, titanium plate, etc.. Stainless steel plate durability, wear resistance is very good, but too thin plate will bulge, too thick plate weight and price is very high, so the stainless steel plate curtain wall is not used much, only in the curtain wall of the local decoration plays a larger role.
Custom Metal Box Manufacturers | Custom Sheet Metal Enclosures | Custom Aluminum Box | Custom Sheet Metal Boxes | Custom Metal Boxes | Sheet Metal Supplier | Steel Box Manufacturers | Sheet Metal Box Manufacturers | Custom Made Metal Boxes | China Sheet Metal Manufacturer | Outdoor Vending Machine Enclosures | Equipment Enclosures | Machinery Enclosures | Machine Enclosure | Machine Enclosures | Industrial Machine Enclosures | Metal Enclosures for Electronics | EV Charger Outdoor Enclosure | Outdoor EV Charger Enclosure | EV Charger Enclosure | Custom Aluminium Box | Custom Steel Box | Metal Box Supplier | Metal Enclosure Manufacturer | Sheet Metal Enclosure Manufacturers | Metal Enclosure Box Manufacturer | Metal Enclosure Manufacturer | Aluminium Box Manufacturer | Outdoor Equipment Enclosures | Enclosure for EV Charger | EV Charging Enclosure | EV Charger Enclosure | Aluminium Box Manufacturers | Equipment Enclosures Metal | Sheet Metal Enclosure | Metal Enclosure Box | Metal Enclosure | Enclosure Box Price | Sheet Metal Manufacturers | Sheet Metal Manufacturing companies | Custom Made Aluminium Boxes | Custom Made Metal Box | Aluminum Sheet Metal Fabrication | Aluminium Sheet Metal Fabrication | Auminium Tool Boxes Made to Order | Custom Metal Enclosures | Custom Stainless Steel Box | Custom Made Aluminum Boxes | Metal Box Manufacturers | Custom Steel Enclosures | Custom Stainless Steel Enclosures | Custom Metal Box | Custom Aluminium Box