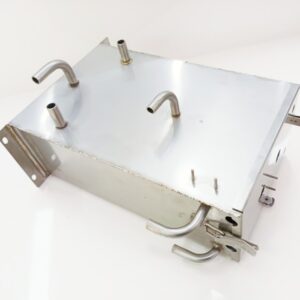 Aluminum boxes are made of pure aluminum. The material is softer. Easily deformed. Aluminum alloy box is made of alloy material to make. Aluminum alloy is aluminum with the addition of copper, silicon, magnesium, zinc, manganese and other elements. Aluminum alloy material is more robust, wear-resistant and slip-resistant. Not easily deformed.
Aluminum alloy is one of the most widely used non-ferrous metal structural materials in the industry. The rapid development of industrial economy and the increasing demand for welded structural parts of aluminum alloy have led to the in-depth research on the weldability of aluminum alloy.
Aluminum is a product manufactured from aluminum and other alloying elements. It is usually processed into castings, forgings, foils, plates, strips, tubes, rods, profiles, etc., and then made by cold bending, sawing, drilling, assembling, coloring, and other processes. The main metal element is aluminum, and some alloying elements are added to improve the performance of aluminum.
Custom Metal Box Manufacturers | Custom Sheet Metal Enclosures | Custom Aluminum Box | Custom Sheet Metal Boxes | Custom Metal Boxes | Sheet Metal Supplier | Steel Box Manufacturers | Sheet Metal Box Manufacturers | Custom Made Metal Boxes | China Sheet Metal Manufacturer | Outdoor Vending Machine Enclosures | Equipment Enclosures | Machinery Enclosures | Machine Enclosure | Machine Enclosures | Industrial Machine Enclosures | Metal Enclosures for Electronics | EV Charger Outdoor Enclosure | Outdoor EV Charger Enclosure | EV Charger Enclosure | Custom Aluminium Box | Custom Steel Box | Metal Box Supplier | Metal Enclosure Manufacturer | Sheet Metal Enclosure Manufacturers | Metal Enclosure Box Manufacturer | Metal Enclosure Manufacturer | Aluminium Box Manufacturer | Outdoor Equipment Enclosures | Enclosure for EV Charger | EV Charging Enclosure | EV Charger Enclosure | Aluminium Box Manufacturers | Equipment Enclosures Metal | Sheet Metal Enclosure | Metal Enclosure Box | Metal Enclosure | Enclosure Box Price | Sheet Metal Manufacturers | Sheet Metal Manufacturing companies | Custom Made Aluminium Boxes | Custom Made Metal Box | Aluminum Sheet Metal Fabrication | Aluminium Sheet Metal Fabrication | Auminium Tool Boxes Made to Order | Custom Metal Enclosures | Custom Stainless Steel Box | Custom Made Aluminum Boxes | Metal Box Manufacturers | Custom Steel Enclosures | Custom Stainless Steel Enclosures | Custom Metal Box | Custom Aluminium Box