Charging pile riveting is a way of fixing rivets through the holes in the metal parts of the charging pile and riveting the rivets to the metal parts with tools such as hammers or air hammers. The specific steps are as follows: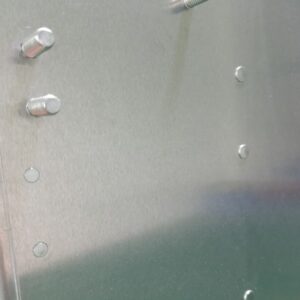 1. Preparation: prepare the rivets, rivet gun, pliers and other tools that need to be used.
2. Install the rivets: insert the rivets into the holes of the charging stake housing, making sure that the length and diameter of the rivets match the size of the holes.
3. Position the rivet: use pliers to position the rivet in the correct location, making sure the rivet is flush with the surface of the housing.
4. Make the riveting point: use a rivet gun to press the end of the rivet into the inside of the housing to form the riveting point.
5. Press the rivet: use the rivet gun to press the other end of the rivet into a semi-circle to ensure the riveting point is secure.
6. Finish the work: check the quality of the riveting point to ensure that the rivet is firmly and reliably attached to the shell; Jiatong has a special person to clean up the rivet residue on the shell surface to ensure a neat appearance. Complete the charging pile shell riveting process to ensure the quality and safety performance of the charging pile shell. It should be noted that the riveting process should be carried out according to the standard and the rivets should be sized to match the plates, therefore, careful calculations should be made before selecting the rivets to ensure that the installed charging pile has sufficient strength and durability. Therefore it is important to find a professional and reputable sheet metal manufacturer.
Dongguan Jiatong Precision Hardware Products Co., Ltd. has 11 years of sheet metal experience, professional sheet metal tools and sheet metal technicians with more than five years of experience, which can provide professional technology and meet all the requirements of customers for products as much as possible. If you are looking for such a sheet metal manufacturer, a good choice is Dongguan Jiatong, welcome to click the link below to inquire.
Custom Metal Box Manufacturers | Custom Sheet Metal Enclosures | Custom Aluminum Box | Custom Sheet Metal Boxes | Custom Metal Boxes | Sheet Metal Supplier | Steel Box Manufacturers | Sheet Metal Box Manufacturers | Custom Made Metal Boxes | China Sheet Metal Manufacturer | Outdoor Vending Machine Enclosures | Industrial Machine Enclosures | Metal Enclosures for Electronics | EV Charger Outdoor Enclosure | Outdoor EV Charger Enclosure | EV Charger Enclosure | Custom Aluminium Box | Custom Steel Box | Metal Box Supplier | Metal Enclosure Manufacturer | Sheet Metal Enclosure Manufacturers | Metal Enclosure Box Manufacturer | Metal Enclosure Manufacturer | Aluminium Box Manufacturer | Outdoor Equipment Enclosures | Aluminium Box Manufacturers | Equipment Enclosures Metal | Metal Enclosure Box | Metal Enclosure | Enclosure Box Price | Sheet Metal Manufacturers | Sheet Metal Manufacturing companies | Custom Made Aluminium Boxes | Custom Made Metal Box | Aluminum Sheet Metal Fabrication | Aluminium Sheet Metal Fabrication | Auminium Tool Boxes Made to Order | Custom Metal Enclosures | Custom Stainless Steel Box | Custom Made Aluminum Boxes | Metal Box Manufacturers | Custom Steel Enclosures | Custom Stainless Steel Enclosures | Custom Metal Box | Custom Aluminium Box | Sheet Metal Fabrication Supplier | China Sheet Metal Fabrication | Custom Sheet Metal Fabrication | Sheet Metal Fabrication Services | Metal Manufacturing in China | Aluminum Box Fabrication | Sheet Metal Box Fabrication | Sheet Metal China | Precision Sheet Metal Fabrication | Custom Aluminum Box Fabrication | Custom Metal Box Fabrication | Sheet Metal Manufacturing | Metal Manufacturing Company | Metal Bending Services